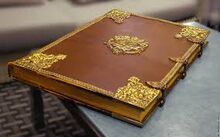 A thin book, usually bound in black leather with silver letters on the cover, detailing standard rules of adventures. It includes matters of dividing treasure, how long to search for missing adventurers, the Widows and Orphans fund, creatures, places, and information of importance to travelers. It also explains that bandits fall into the same group of evil creatures as goblins and trolls. It contains little information about dragons. It does not contain information about ceremonies for returning lost bags. It also contains information on oracles, but very little about Tempe. It may contain maps of the Known Lands. For example, its map of Thraxon is better than most of the other maps, such as Norsland, which is less than ideal.
Ad blocker interference detected!
Wikia is a free-to-use site that makes money from advertising. We have a modified experience for viewers using ad blockers

Wikia is not accessible if you've made further modifications. Remove the custom ad blocker rule(s) and the page will load as expected.