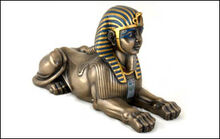 Sphinxes are often used as guardians and will let someone pass if he or she answers a riddle. It has the body of a lion and a woman's face. Those seeking to pass a sphinx may do so as a group, in which case one person responds for the entire group, or pass one by one. If one choses to do it as a group, the person who answers is selected by the sphinx. When confronting a sphinx, a person can correctly guess and pass by, not answer and withdraw, or answer wrongly and be killed.
The answers to their riddles are often very simple and hide in plain site. They take very much pride in their skills as guardians.
References
Edit
Ad blocker interference detected!
Wikia is a free-to-use site that makes money from advertising. We have a modified experience for viewers using ad blockers

Wikia is not accessible if you've made further modifications. Remove the custom ad blocker rule(s) and the page will load as expected.